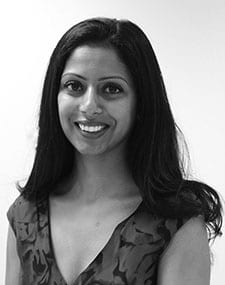 Dr Shruthi Guruswamy
Main speciality: Consultant Psychiatrist
Sub Specialities: Dr Guruswamy specialises in the treatment of common mental and behavioural disorders including addictions and adult ADHD. In addition, she is trained as a Dialectical Behaviour Therapist (DBT) and in Functional Medicine.
View Website
Contact
About
Dr Guruswamy undertook her Post Graduate training in Psychiatry at University College Dublin and the Mater Misericordiae University Hospital, Dublin. She became a member of the Royal College of Psychiatrists in 2008.
Dr Guruswamy moved to the UK in 2012 from Ireland and took up a full time Consultant role with the Central North West London NHS Foundation Trust treating individuals with complex and enduring mental and behavioural disorders. She became a full time Consultant Psychiatrist in the Independent Sector in 2014 and alongside her private practice she was appointed Consultant in the Priory Hospital.
Psychiatrist